Audio Clips

18th Variation
Rachmaninoff

Maple Leaf Rag
Scott Joplin

Pebble Beach
Vince Guaraldi

Angela
Bob James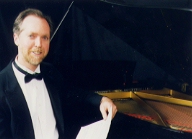 Steve Hall
Piano/Keyboard Entertainment
Pianist Steve Hall has entertained hundreds of thousands of people throughout his twenty year career as a solo performer. People from all over the world who visit the popular travel destination of Williamsburg, VA can see Steve perform in a variety of places. From the elegant Williamsburg Inn inside historic Colonial Willliamsburg to the modern golf resort Kingsmill on the James, Steve showcases his talents continuously throughout the year. Steve is native to the Virginia peninsula and has been playing professionally since earning his Bachelors degree in piano performance. Please click HERE to view a list of Steve's weekly dates.

Aside from Steve's weekly performance dates he also offers his talents for special occasions. The miracle of modern technology enables Steve to perform as a trio ( piano/bass/drums ) which adds to his appeal. Please click HERE if you would like to contact Steve for more information.

Steve's repertoire is virtually infinite and pleasingly diverse. Click HERE for a short sample of Steve's songlist

Thanks for stopping in!!!!!