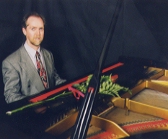 Steve Hall - Pianist
Weekly Schedule


Sunday thru Thursday 6pm to 10pm
Bray Dining Room Kingsmill on the James

Wednesday Evenings
The Williamsburg Inn East Lounge 4pm to 5pm

Sunday Brunch
The Fort Magruder Inn 10am to 2pm

Steve keeps his weekends open for parties and special events!!!!

Thanks for your interest!!